Football Bankbuilder Introduction
17th August 2013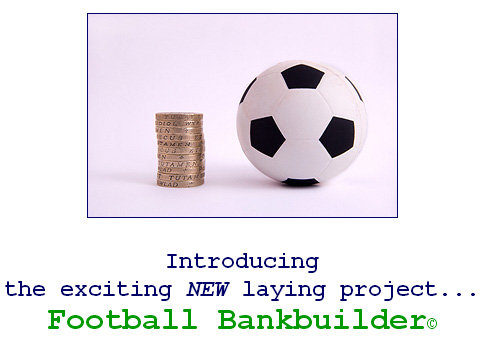 Sgt Jack  – Introduces Football Bankbuilder
Hi folks. I'm Sgt Jack and I'm a new reviewer here at BST. I've been a fan of football betting for many years so I was pleased to be given the chance to review Football Bankbuilder, a footy laying system from the same stable as the highly rated Little Acorns.
The system costs £97 via PayPal and a 30 day no quibble money back guarantee is offered by the author. It is delivered as a 32 page PDF.
The system is based on laying in the over/under goals markets. A number of conditions must be met for qualifying bets, but these are simple to understand and implement and opportunities for placing these bets are easy to find.
This system is about making small but consistent profits from bets that historically do not have long losing streaks. Whilst the author expects to see a profit from level stakes, he recommends using a Fibonacci staking plan to maximise profits, and compounding profits month on month to take advantage of the system's consistent growth.
The author recommends placing three bets per day, shortly before kick-off, on matches that run two hours apart, in order to fully utilise the Fibonacci staking. However, an alternative method placing three bets together once per day is also outlined, and I will be using this second method as I feel its convenience will suit a wider range of people.
A starting bank of 176 pts is recommended for the Fibonacci staking plan, and a second suggested variant called "two steps back". I will be running both of these staking plans, alongside a level stakes plan for comparison. I will use the profit compounding recommended by the author.
All bets will be placed at the available lay price on Betfair and commission of 5% will be deducted.
Because of the liquidity of the market used, the system can be used every day, but for the purposes of the review I will be concentrating on weekends and midweek games, and posting updates twice a week.
Thank you for your time and I hope you enjoy the review.
[Click here to see Football Bankbuilder] 
Regards,
Sgt Jack Introduces Football Bankbuilder