Total Football Trading Gold, Silver and LTD – Introduction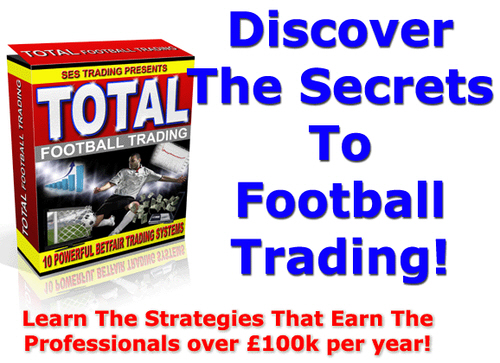 2nd October 2011
Sgt Magnifique Introduces Total Football Trading Gold, Silver and LTD
Three of us are going to review 5 different trading strategies in the Total Football Trading package. But firstly, I thought I'd give an overall description of what you get.
Total Football Trading weighs in at four hefty pdf files (a total of 11.5MB). It currently costs $77 and for this you get ten different football trading strategies. We will be reviewing five of them, which isn't to say the others are not worth using, just that the five we are reviewing are the most suitable for a review.
Here's a brief extract from the sales site: "The Total Football Trading package has been created by professional traders who make a substantial amount every week from trading football on Betfair! We have created a product which means you simply dont need to buy any other systems. Hence the name, TOTAL Football Trading ! This is totally everything you need to trade football. This isnt just one system on its own, this is a whole portfolio of different strategies and systems. With this you can trade any sort of football match and make a profit!"
The first pdf is a general description of football trading. It does assume you know about trading and "greening up" – if you don't then you will need to do some introductory reading. The authors emphasise that you should not skip reading this first manual, otherwise your application of the later strategies might well fail.
There is a lot of material in the first book about the correct mentality needed to be a successful trader – don't skip it!
The other three manuals contain the ten strategies. Each strategy is described in detail as to trading entry points, exit points and likely success rate. Match selection is perhaps a little less detailed, but I believe a careful read of each strategy should lead you to the right decisions. Each strategy then has several real examples with screen shots of the trades, these help you to understand the strategy.
The information is very well presented, but there is a lot of information to take in and I strongly advise you to take it steadily, or else your brain may explode (!) and you will be uncertain when you actually start trading! It's probably best to just take one, two or three of the strategies and concentrate on them, rather than trying to do more. So there are probably a total of several months of comprehension and testing of the material that you buy.
There are pre-kick-off strategies and in-play strategies. Obviously, during the trading period, whether it be before kick-off or in-play, you do need to be able to watch the Betfair (or BetDAQ) markets. So you will need to be professional about what you do and not allow yourself to be sidetracked.
When reviewing trading strategies, it is not possible to say that any other user would have the same success or failure that our reviewers have, as individuals will make different decisions at different times. Nevertheless it is our aim to describe our experience of using the strategies and to give an idea of what you might expect if you decide to try them.
Each review will run for at least 8 weeks and we will let you know how often we do an analysis but don't find any bets. This should be plenty of time for us reviewers to get used to the strategies and for you to get an idea as to whether these strategies are for you.
Magnifique is going to review 3 strategies.
An old friend of all soccer traders, Lay the Draw. Though most of you are aware of the concept behind this type of trading, there's something in the book you might have never thought of (particularly one little filter, that to be honest has never occurred to me). So it is something worth looking at and trying out.
The other two strategies are called Golden Goal and Silver Goal. These are based on the same ground and are in fact more of straight laying than trading. The main difference between them is in games they could be used on and the circumstances to look at. The idea behind the strategies makes perfect sense, but we will see if they actually work in practice during the trial.
I'll be concentrating on top leagues with high liquidity as they fit the strategies best of all.
[Click here to see the Total Football Trading sales page…]
Sg Magnifique – Total Football Trading Gold, Silver and LTD