UK Racing Lays On
9th and 10th November 2013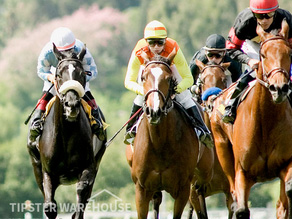 Sgt Adrianc – Not a Review on UK Racing Lays System
My last review on UK Racing lays system was done on November 1st and I lost £7,155 up to that point.  This is NOT a review on UK Racing lays.   A buddy looked at the strike rate and asked me why I didn't back the horses, tipped in UK Racing lays instead.  So I did just that today and the results are attached below.  And I did not back any more horses after my first win.   This weekend has been very busy for me.
====
Rules are very simple to follow for the system. There are only 2 rules to follow –  
1. We do not bet if the Betfair Starting Price (BSP) of any advised bet is over the odds of 8.00. 
2. We do not bet if the total number of runners is less than 6. 
We personally use a betting bot. Any decent bot will support the above 2 criteria. If you do not use a bot, you can still limit the BSP to 8.00 on the 
Betfair
website. If you bet closer to the start time of the race you can monitor the number of the horses.  
 I shall forget everything about the rules just for today.  The only other rule suggested by my buddy is: lay the horse if the horse in the previous race WINS on the same day.  Last rule is that if I can take a break, in other words, no more back bets if I have 2 wins in a day.
I placed a £100 back bet on each of their suggestion, unless the horse in the previous race wins.  It would become a lay bet.
====
9th September
12:55 Wincanton Next Oasis -£100
13:05 Kelso Clondaw Knight +300
14:05 Wincanton Ahyaknowyerself +100
14:50 Kelso Rhymers Ha'
15:05 Sandown Saphir Du Rheu
16:00 Kelso Ben Akram
10th September
14:00 Ffos Las Walcot Lathyrus -£100
14:15 Market Rasen Italian Master +1500
14:30 Ffos Las Abnaki +100
15:05 Ffos Las Hansupfordetroit
15:20 Market Rasen Molko Jack
15:50 Market Rasen Bowie
This weekend I made £1800.00 by contradicting what the rules say.
Thank you for your time and I hope you enjoy the writing.
[Click here to see UK Racing Lays]
Regards,
Sgt Adrianc Reviews UK Racing Lays