Full Time Betting Income – Final Review Summary
8th Feb 2012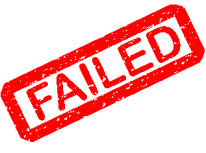 Review Manager Rich wraps up the review of Full Time Betting Income
Hi Bloggers – Sgt Tony isn't available to finish this review. So I am wrapping this one up now.
Full Time Betting Income is a system that selects horses to lay. There are extensive training materials. Alternatively you can sign up to receive the tips. The cost is $157 and subscription to the emails costs $99 for six months. Full details are in Tony's Introduction.
At the end of the review, our starting bank of £200 now stands at £168.82 – a loss of -£31.18 for the period to date. Our Betfair SP bank stands at £144.36 showing a loss of -£55.64 to date for comparison.
So Full Time Betting Income is failed.

[Click here to see Full Time Betting Income…..]
Kind regards
Sgt Tony