Gaffa Tips Final Review
6th October 2013
Sgt Colin – Reviews Gaffa Tips
Introduction
Hi, Sgt Colin here, with a final review of Gaffa Bets, a straightforward tipping service provided by "The Gaffa", covering Golf & Football bets.
Each week there were 3 emails, providing the bets for that day.
1 Golf Bet email:   These were top 10 finisher & 72 hole match play bets – up 5 bets on each per event, occasionally using accumulators on the match bets.
2 Football bets – midweek & weekend: These tend to be 1×2 selections or both teams to score, and often using accumulators.
The cost is £47 per month. 
The nature of the service means that the results were best reviewed weekly – and I completed a 12 week review.
 My final review covers performance, ease of use & customer service.
1.                Performance
I monitored performance using a 100 point opening bank, with staking levels a simple 1 point per bet (note the service does not provide staking levels or a staking plan). My review covered 12 weeks from mid July to the end of September.
Unfortunately the service made a loss during the review of 14.1 points, from 252 bets. The service had a 39% hit rate, and made a ROI of -5.6%.
The football bets were successful, making a profit of 9.8 points on 90 bets – a return of 10.9%, with a 51% hit rate. Having said that, the profit was due to a very successful final week, with 17.6 points gained thanks to an accumulator.
It therefore follows that the golf bets were heavily loss making, 23.8 points lost from 162 bets. 53 were winners, a hit rate of less than 1/3rd. It became clear during the review that the selections made sense, in that the players often played well during the week, and we had a couple of tournament winners / runners up. However, that doesn't necessarily end up as profitable betting!
 2.                Ease of Use
Simple to use – it's a tipping service, and there are no real time constraints (not real-time betting).
 3.                Customer Service
This was OK. E-mails were received on time, with one exception, albeit the delivery format changed without notice part way through the review, although this may have been just related to the reviewers.
Note that the results are published on the Gaffa website, and were a fairly accurate reflection of my review figures. You will note from them that the service lost money during the review period.
However, they don't seem to take into account the dead heat rules correctly for the top 10 golf bets, accounting for full odds wins when there were say, 4 tied for 8th place. The bookies reduce the odds to reflect the increased number of winners – but this was not reflected in the published results, overstating them a tad.
 4.                Final thoughts
At no point during the trial did we move significantly into the black, and hit a low point of 68 points. Therefore, despite the long term positive record, the review can only conclude that the service failed.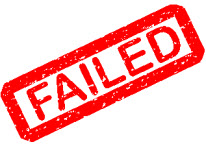 [Click here to see Gaffa Tips]
Regards,
Sgt Colin Reviews Gaffa Tips