My Lucky 15 Final Review
7th June 2014
Sgt Jack Reviews My Lucky 15
To recap, My Lucky 15 is a football tipping service offering regular Lucky 15 selections on domestic and other leagues. I had high hopes for this service, having a bit of a soft spot for the Lucky 15 bet as it was the one I first started with when I began my betting hobby many moons ago.
However, the reality is that the Lucky 15 is thought of as a bit of a mug's bet, its only redeeming features being the enhanced payout for all four correct and the double the odds consolation bonus for only one winner. It seemed clear to me that to make a profit this service would need to exploit at least one of these features by getting 4 winners regularly or hitting high priced single winners at double the odds.
As it turned out during the review, this did not occur.
Total number of Lucky 15 bets: 59
4 correct: 0
3 correct: 12
2 correct: 16
1 correct: 23
0 correct: 8
Number of winning bets: 13
Strike rate: 22%
P/L: -179.53
ROI: -20.5%
Clearly this was a terrible performance over the review period. In general winners were only going to come from 3 or 4 four correct, but we didn't get the 3 often enough and didn't get the 4 at all. Our initial betting bank of 200 points was almost wiped out. Certainly 4 correct won't come along every day, and a couple of these would have pushed us into a profit. Statistically it's not impossible for the service to have been doing well generally but to just not have hit any big wins during the review period. However, checking the Betfan proofing page, the service has lost getting on for 500 points since it's peak in October last year. It would take some steely determination to stick with it that long.
Because of the substantial loss over the review period and the fact there is no sign of it turning round, I can do nothing other than give My Lucky 15 a failing grade.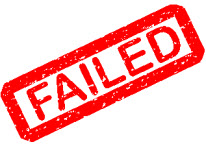 Thank you for your time and I hope you enjoyed the review.
[Click here to see My Lucky 15]
Regards,
Sgt Jack Reviews My Lucky 15