Oddsonuwin Final Review
15th April 2014
Sgt Short Reviews Oddsonuwin
Well we have had no bets for a few days, and when I enquired what was happening I received this reply:
Although I know the level of profits to which the Oddsonuwin: Investing in Facts not Hunches system has made over the last 6 years, it has been extremely slow in 2014 to match those numbers. As a number of review sites were trialling my daily selections, I felt it wise to discontinue the daily email as the feedback can only be negative if using the results thus far for this year. However, I have all faith that 2014 shall end on a very good positive note.
It seems that he doesn't really have that much faith. Having told us in no uncertain terms on his website that he has made an average of 81 points per month for the last 6 years and that his system is a "DEAD CERT" bank builder, it is surprising that after 47 days he should give up.
We normally do a minimum of 56 days for our review, and continue to 84 days if the product is doing OK, but it has seemed pretty obvious for a while that this one was destined for an early bath, so we will do the final review anyway.
To remind you where we started I have reproduced the introduction:
This is a service by John Wilson which comes in the form of a PDF containing our instructions and then daily selections delivered by email. It looks to win money on the outcome of horse races, but uses unconventional means to find the selections. The title is normally accompanied by the tagline "Investing In Facts Not Hunches."
It seems that these facts refer to the track rather than the horses. He points out that there are 119 courses in UK and Ireland, each with good and bad points for particular types of race in various conditions, giving us many profit opportunities. "All selections are highlighted through fact using the highest probability of success."
John says that using these methods he has made an average 920 points profit per year over the last 6 years. There are no big risks involved, each bet is backing or laying the favourite at short odds. To use this system you will require a Betfair (or other exchange) account, and a recommended bank of 100 points. We will also be using Oddschecker, an online betting site.
There are detailed instructions on how to place your bet. In order to follow the system rules exactly you would either have to load up a bot or two, or be sitting in front of your computer at the off to make the appropriate bet. If you wanted to place your bets in advance you would have to estimate from Oddschecker which horse would be the favourite and which band it's starting odds would fall into. The bands we will be using are:
Evens – 2/1 (2.00 to 3.00 decimal)
2/1 and lower (0.01 to 3.00 decimal)
Below Evens (0.01 to 1.99 decimal)
The daily email will tell us to either BACK or LAY the favourite if it falls into the correct odds band in the selected race. When we are backing, it will be for 1 point per selection. When we are laying, it will be for 1 point liability if the odds are below evens, (in this case if the horse wins we will lose 1 point) or 1 point stake if the odds are above evens (in this case we will lose between 1 and 2 points if the horse wins).
The list is likely to contain 3-14 selections, maybe up to 20 on very busy days, but it is likely that only about 50% of them will meet the odds criteria.
The cost of the service is £30.57 + VAT (if applicable) per month, and it will be restricted to 200 members. It is purchased via Clickbank, so you have the normal 60 day money-back guarantee.
 Rating
We ended the trial having lost 14.11 points. We made 206 bets and won 95 of them, a strike rate of 46.12%. The return on investment therefore was -5.76%. None of this is too terrible, but we were given to expect so much more. I'm afraid the only possible rating is FAILED.
Impressions
This was not a straight-forward system to follow. The official results were easy to compile after the event with a bit of practice, but my actual results when I placed the bets were often completely different. I used my Grey Horse Bot, running up to four instances at a time, which in my opinion was the only realistic method of getting the bets on. The alternative was being at the computer for each race and placing it manually. On our final day there were 23 races selected from the 2.20 at Taunton to the 8.40 at Kempton, each of which needed to be watched in the minutes before the start. In the end only 4 races met the odds criteria and became bets, and 3 of them lost. Not much of a return for a days work.
Profitability
We were promised that the average profit for the past 6 years was 920 points per year, about 2.5 points per day. During our 47 day trial we reached this figure 5 times. Our best day was 4.88 points up and our worse was 5.11 down. In the end we lost 14.11 points.
Ease of Use
Nightmare.
Risk
We were betting on or against horses up to 2/1. I don't think there was ever a danger of losing the bank, but there was also never any sign of making a profit. We went into the red on day 7 and never got back into the black.
Support and Documentation
I don't think the original PDF instructions were very well written, and I had to ask for clarification a few times. When I did it took quite a while to receive a reply.
Time needed to apply the system.
As described above, you could spend a large part of your day running this.
Conclusion
On the evidence seen, a waste of time, money and effort.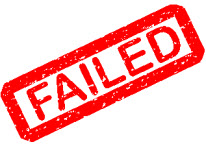 Thank you for your time and I hope you enjoyed the review.
[Click here to see Oddsonuwin]
Regards,
Sgt Short Reviews Oddsonuwin