Soccer ATM Final Review
8th March 2015
Sgt Short – Reviews Soccer ATM
I don't like to finish reviews early, I prefer to give them every chance, but it was obvious for some time that this was going nowhere. As a reviewer I was obliged to keep paper trading the bets up until day 56 at least, but if I were a paying customer I'm afraid I would have given up on this a long time ago. As an overall loser the only verdict is FAILED.
During the review period we made a total of 429 bets of which 243 were winners, a strike rate of 56.64%. This does not sound too bad, but most of the winners came from the over 1.5 goals bets which averaged around  1.35 so this was not high enough to make a profit. We finished the trial with a loss of £303.02. This was a return on our £4,290.00 invested of -7.06%. All three bet types failed to make a profit.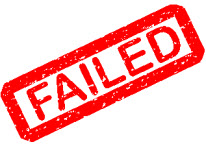 Thank you for your time and I hope you enjoyed the review.
[Click here to see Soccer ATM]
Regards,
Sgt Short Reviews Soccer ATM