Sports World Final Review
7th December 2017
 PRODUCT OUTLINE:   
Sports World send selections via E-Mail between 9 am and 11 am every morning. This usually consists of one bet per day but usually in most circumstances this could be a "no bet day." A starting bank is 50 points and that can be either £1 per point, £2 per point which is what I used during the review or whatever you feel comfortable with. I have never used their support because everything is so simple to follow and is thoroughly explained in each e-mail.
COST OF SERVICE:
Three options are available at £14.95 per month or £29.95 per quarter. There is a 75% discount on all first month subscriptions, this means you will pay just £3.79 for your first month of tips. You can even contact them about their lifetime membership price, but why would you??
STAKING PLANS: 
Simple just use a 50 point bank as explained above.
RESULT:
I started reviewing Sports World  from Monday 18th September 2017 until Monday 20th November 2017 which was an 64 day review and here are the results of this service:
Starting bank was set at £100 with £2 equaling 1 point.
Overall they was 34 bets in 64 days which means that roughly you can expect a bet every 2 days and at the cost of £14.95 per month this just doesn't in my opinion represent value. I know sometimes quality over quantity comes into it but NOT in this case, especially when over 95% of the selections are odds on selections and most of them are handicap betting. The overall strike rate for this service is 38.23% and it needs to be much higher in order to profit from the rough guide of a bet every 2 days criteria and to pay for the subscription service as well. Hence why I can't recommend even contacting them regarding their lifetime membership fees.
As you can see from the daily review of Sports World that it became a joke most of the time when once again we would have a "No Betting Day" And looking through their web site you can clearly see from the detailed race results that in the last 3 months they have made a loss. I rest my case.
CONCERNS:
My concerns about this service are the poor selections that are definitely not quality over quantity and at Paula's request we felt it was better to stop this review because it was just going from bad to worse.
CONCLUSION:
A fail from me!!!
♥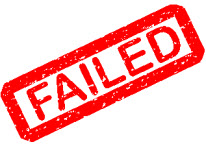 If you have any questions, leave a comment below. I hope you enjoy the review.
[Click here to see Sports World]
Sgt Mack Reviews Sports World