The Legacy And Saver Systems – Final Review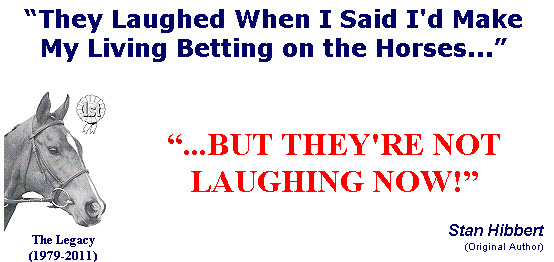 Rating: Neutral21st October 2011
Sgt Jon's Review Summary of The Legacy And Saver Systems
Most betting professionals will tell you that to be successful in the long term, you have to make sure you are identifying value in your selections. Regrettably both the Legacy and Saver systems fail to do this and it is no surprise that the outcome of the three month trial showed a small combined loss.
The Legacy system is designed to back forecast favourites at certain courses which is why I wondered (and still do) if this is a back fitted system picking tracks where favourites have performed historically better than normal. No explanation is given as to why these tracks are to be included and others discounted.
The Saver system introduces additional filters and selections can be made at all courses. Whilst these selections did make a small profit over the review period, the gain was nothing spectacular. In fact the combined P/L showed an overall loss of -2.99 points.
The system e-book costs £97 plus VAT as a one off payment via clickbank.
Personally, I could not get "excited" about the selection process and although the strike rates were good, the prices were so short that the systems struggled to get into and grow profits. I monitored results using Betfair SP which as we all know is generally more generous than ISP and I imagine that if ISP had been used the outcome would have been worse.
I am placing Legacy and Saver Systems as a neutral system as essentially no serious damage was done to the opening bank. This could be reviewed again in the future to see if it is profitable.
Strike Rate: Legacy: 26.8%  (30/112)   Saver: 39.3%  (48/122)
Opening Bank: 100 points
Legacy Cumulative P/L:  minus 7.46 points
Saver Cumulative P/L: + 4.47 points
Closing Bank: 97.01 points
[Click here to see the full daily review…]

[Click Here To See The Legacy And Saver Systems Sales Page…]
Cheers
Sgt Jon Reviewing The Legacy And Saver Systems