Top Form Racing Final Review
March 2nd February 2017


Admin Paula – Reviews Top Form Racing
My review of Top Form Racing has come to an end now so here is the final summary.
Sgt Bubbles had a family crisis half way through the review so I had to take over and I am writing the final review so here goes………
Impressions
I found this easy to follow, emails were sent to my inbox the evening before racing with advised bookies and odds. Usually there were between 1-3 selections a day.
Profitability
Over the review period which was 86 days we had 142 bets, 27 winners, 31 placed and 83 losers the starting bank was 100 points and it finished on minus 7.13 points so no profit at all.
Rating:





Ease Of Use
This service was very easy to use, like I said the bets arrived every evening in my inbox the day before racing with advised bookies and odds and the odds suggested most of the time were obtainable. So it was just a matter of placing the bets either in the evening or the next morning.
Rating:





Risk
There is always an element of risk with betting systems but this one didn't perform very well during the trial, with not many winners the trial ended up at a loss of 7.13 points, so after 86 days of betting you would of made no profit at all. I don't think it's at a risk of losing the whole bank but you wouldn't make a profit either and also taking into account you have to pay for this service as well.
Rating:





Return On Investment
None, zilch, zero…..No return at all.
Rating:





Support
I never actually needed to contact the vendor during the trial as the emails arrived promptly every evening, but when initially setting up the service I had no trouble at all, emails were answered promptly.
Rating:





Time Needed To Apply The System
Very little time is needed to place the bets, they can be placed in the evening before racing or on the day.
Rating:





Conclusion
I couldn't recommend this service as it's overall performance was average if not borderline poor, although along the way they did have a couple of nice price winners it wasn't enough to put us in profit at the end of the trial. Plus you have to factor in the cost of the service it's definitely not something I would promote.
Our overall Rating is FAILED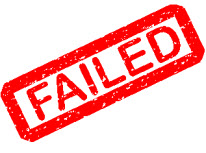 Thank you for your time and I hope you enjoyed the review.
[Click here to see Top Form Racing]
Regards,
Admin Paula Reviews Top Form Racing