1pt Match Attack Final Review
21st February 2017



Sgt Eddie – Reviews 1pt Match Attack
My review of 1pt Match Attack has now come to an end and below I have given my thoughts and regarding the service.
Impressions
Its pretty straightforward, you are sent an email with the selections the prices and where to place your bets, the number of selections does vary from 1or 2 to as many as 10 or 11. You are always told when to expect the next email and I found that it always arrived when it was expected.
Profitability
Our review period wasn't profitable and the advised 80pt betting bank dropped to 53pts, so a loss of 27pts. We did actually have a day when we didn't have enough of the bank left to cover all of the bets on that day. So really we bust out , but I don't think that 80pts is enough and a 100pt bank is a little more realistic.
[Rating:0.0]
Ease Of Use
Straightforward, get the email put the bets on and wait for the results. Originally they didn't quote the bookmaker with who you should be betting with, but once this was pointed out they always included them.
[Rating:4.0]
Risk
Expect plenty of losers as you are betting at high odds, and there is a very definite risk of losing the entire bank as we also saw during our trial.
[Rating:1.0]
Return On Investment
As the bank dropped to 53pts, a loss of 27pts, there was no return on investment and of course as I said on one day we didn't have enough left to cover the days bets.
[Rating:0.0]
Support
As I have said earlier all selections are sent via email and any questions I had were answered promptly.
[Rating:5.0]
Time needed to follow the service
Not a lot of time is needed once you have your selections as most are going to be placed with the same bookmaker, this was Betfair on most occasions.
[Rating:5.0]
Conclusion
The service is very easy to follow, get the email and put your bets on, but the results were poor, and a total loss of our original 80pt bank when we didn't have enough funds left to place all the bets on one day. It appeared to me to be a bit of a scatter gun approach, and hope to land on a big priced winner. As the saying goes, if you throw enough mud you will eventually hit one, and this is how this felt. A lot of the time you would be backing the same games just in a different combination of bets. I personally didn't think that much research went in to finding the bets. The 80pt bank is not enough if you want to follow this service and have any chance of staying in the game, and a more realistic total is at least 100pts, and even then you are in real danger of going bust.This service was a big disappointment and one that I cant recommend to anyone.
Our overall Rating is FAILED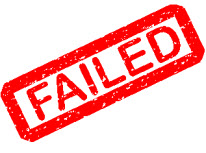 Thank you for your time and I hope you enjoy the review.
[Click here to see 1pt Match Attack ]
Regards, Sgt Eddie
Sgt Eddie Reviews 1pt Match Attack