Betting Grenade  Final Review

Review Manager David-Reviews Betting Grenade
Rating:





PASSED AND APPROVED
Hi Bloggers
Well this one was a real tricky one to try and judge but at the end of the day it finished with a 99.52 points profit and does what it says on the tin finds big priced winners so the fact that it had a 100.00 BFSP and a 49.78  priced winners cannot be considered a fluke because that is what the system is suppose to do.
So i have passed it and given it 3 stars.
Now given all this the system is one hell of a roller coaster ride, by mid December it almost broke its 100 point bank on reflection a 200 point bank would have been more appropriate and was an error on my part. The downside are the losing runs, given the odds of some selections this is really to be expected. During early to mid December it suffered a losing run of 51 and another of 24, these were the longest. Then of course it got the 100.00 priced winner in the latter half of the month.
I think the lack of racing and smaller fields did not help. As per the author, the actual strike rate increased but the odds were a lot less than normal so that was why it was struggling, things did pick up a lot better in January and February when some kind of normality was resumed in racing.
So what is Betting Grenade?  Well it is a system that requires you to monitor live racing. During  the review we concentrated on races with12 runners or less, so if you cannot follow live racing this is not for you. The rules are quite simple, the most selections we ever had in one day was 29 we had a few in the low 20's, and as low  as 3 on one day. If  you like a lot of bets then this one could be for you during the review period it had 1086 selections which resulted in 182 winners, now with that here are some stats:
1086 selections/182 winners = 16.76% Strike Rate
Profit made during Review = 99.52 points
Return on Investment = 9.16%
Average Price of Selection = 17.545
Average Price of Winner = 6.804
Now i would like to have shown the ups and downs of the daily totals but unfortunately due to space restriction i will have to make do with a graph showing the weekly profit and losses: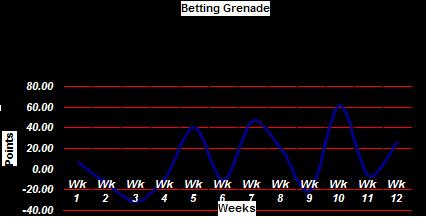 The graph clearly shows the roller coaster ride of this system, also i have included the stats for 5 and half months below:
KEY STATISTICS
Month
No of bets
No of Winning bets
Average winning odds
Strike Rate
Profit and Loss
Sep-10
483
77
7.74
15.94%
87.00
Oct-10
429
67
7.08
15.62%
24.99
Nov-10
471
84
5.53
17.83%
-25.51
Dec-10
276
36
8.18
13.04%
5.56
Jan-11
385
65
7.695
16.88%
92.22
Feb -11(upto 14th)
193
41
5.405
21.24%
19.58
Totals
2237
370
6.895
16.54%
203.84
As we can see only1 month showed a loss and that was November where as mentioned previously the strike rate had increased by around 2% but the average odds of winners had decreased by over a 1.5 points on the previous 2 months , interesting to note February is showing a low average but with a well above normal Strike Rate. Taking the total profit and the number of selections for the 5.5 months the Return on Investment would be 9.11% which is not great but still better than a lot of the stuff out there. Actually Betting Grenade is bucking the current trend by having  level stake bets on higher odds where as a lot of other products are having varied but a lot bigger stakes on low odds. For my own personal taste Betting Grenade has too many selections but then we are all different, anyway i looked at the results to see if there was any trends and a way to reduce the selections down here is what i came up with:
579 selections/74 winners = 12.78% Strike Rate
Profit made during Review = 184.10 points
Return on Investment = 31.80%
Average Price of Selection = 23.07
Average Price of Winner = 10.79
First thing we see is that i have decreased the number of selections by over 500, took a hit on strike rate by 3.98% but increased the average odds of the winner by nearly 4 points, i did manage to get the longest losing run down to 39 now i do not have access to try it out on September or October but did manage to try it out on the first part of November so here is the figures for 3.5 months:
KEY STATISTICS for Betting Grenade Revamp
Month
No of bets
No of Winning    bets
Average winning odds
Strike Rate
Profit and       Loss
Nov-10
289
39
7.78
13.49%
1.20
Dec-10
138
18
12.535
13.04%
77.25
Jan-11
214
33
11.208
15.42%
139.02
Feb -11(upto 14th)
96
10
9.378
10.42%
-6.41
Totals
737
100
9.93
13.57%
211.06
Not to say that this is the greatest thing since sliced bread but it is showing promise but i would like to check it out more.
But in the meantime, for anyone who purchases Betting Grenade via our links, you  can have the simple rule plus the results i have, free of charge.  Just contact Gordon the  BST/LTO Admin Manager, with proof of purchase, and he will forward them to you.
In conclusion an interesting system but in order to operate it  you would need plenty of patience and discipline to survive the losing runs, also be able to follow the racing live and  have internet access. In return you can get winners at very good odds which can be quite a thrill it also manages to make a profit too. As i mentioned earlier i prefer lesser selections but i know others like plenty so they would be catered for here. How much does it cost?  Well at the time of publishing this it was available for £69.99.
Regards
RM Dave
[Click here to see Betting Grenade…..]
Review Manager David-Reviews Betting Grenade