Football Bankbuilder Final Review
2nd December 2013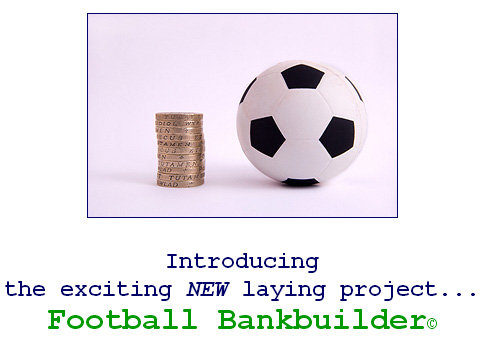 Sgt Jack  – Reviews Football Bankbuilder
Product Outline
The system is based on laying in the over/under goals markets. A number of conditions must be met for qualifying bets, but these are simple to understand and implement. Opportunities for placing these bets are easy to find.
This system is about making small but consistent profits from bets that historically do not have long losing streaks. Whilst the author expects to see a profit from level stakes, he recommends using a Fibonacci staking plan to maximise profits, and compounding profits month on month to take advantage of the system's consistent growth.
In the review period:
Total number of bets – 102
Number of winning bets – 54
Number of losing bets – 48
Strike rate – 52.9%
Staking Plan A (Fibonacci – compounding after 30 days)
Starting Bank: 176
P/L: 25.42
Final Bank : 201.42
Return on Liability: 17.4%
Staking Plan B (Two Steps Back – compounding after 30 days)
Starting Bank: 176
P/L: 32.88
Final Bank : 208.88
Return on Liability: 17.5%
Staking Plan C (Level Stakes – compounding after 30 days)
Starting Bank: 176
P/L: 10.65
Final Bank : 186.65
Return on Liability: 11.8%
The cost of the product is £97. To have covered this cost in the review period, you would have needed to use approximately £10 per point at level stakes, £4 per point for plan A or £3 per point for plan B. It should be noted that this is a system intended for use over the longer term, and that the review only targeted betting on three days per week. It is likely that qualifying opportunities would have existed on almost all days.
Impressions
This is a nice, simple system. If you can spare ten or twenty minutes each day you want to bet, it is easy enough to find opportunities and bet on them. Once you've read the manual a few times, the whole procedure is very straight forward.
Profitability
A slow steady growth was seen throughout the review period. Even at level stakes, the returns more than beat Betfair's 5% commission and turned a healthy profit. The aim of this system is a slow steady growth in your bank and that is what was delivered during the review period.
3.5 out of 5
Ease of Use
The system is very easy to use. Simply scanning the daily Betfair football fixtures easily produces a hatful of qualifying fixtures on most days. Liquidity is high on the chosen market and it is not difficult to get your lay bets matched.
5 out of 5
Risk
Minimal risk at level stakes – all the selections are odds on lays. Progressive staking always increases the risk, but the staking plans here have been well thought out and are clearly supported by long term statistics. However, you are always left with the possibility that the Fibonacci staking plans could fail to recoup their losses, and you may be left with a hefty loss. It is likely this will be a rare occurrence (at no point in the review did we ever come close to this outcome).
The betting bank can take over 2.5 losing Fib sequences and if it does hit a losing sequence it only takes about 2 months to recover back if going according to the rules of 3 selections per day. You see when we are laying below our unit stake a losing sequence will lose around 55-60 points as the average lay is around 1.86, so we dont lose our full unit stake on each bet. So far since inception the vendor has not had a losing sequence and regards this method as ultra safe as monthly profits can easily absorb one or even two losing sequences in a year should they occur and still make a profit after clawing back the losses but there is a very low risk of this happening.
You need the right sort of mentality for these plans – but you can always stick with level stakes, or modify the staking plans to reduce the risk (at a reduced reward).
3.5 out of 5
Return on Investment
The Return on Liability of this system is quite impressive. It could even be improved on the figures in the review by working harder to achieve improved prices rather than simply taking what was on offer.
4 out of 5
Support and Documentation
The documentation is relatively straightforward, but deserves a few reads to make sure you grasp everything about the system. I did not try the support so cannot comment on this.
4 out of 5
Time needed to apply the system
You can easily apply the system in 15 minutes per betting day. Opportunities to take a more hands on approach through the day by betting close to the start of matches and trying to achieve the best price also exist, but this is down to personal preference.
5 out of 5
Conclusion
This is a very easy to use system that performed consistently during the review period. Football Bankbuilder delivered exactly what it said it would – slow, steady growth of the bank. If you want the excitement of big swings up and down in your bankroll, this is not the system for you. If, on the other hand, you are a patient soul who will happily run the system day after day making a little bit of profit month on month, this could be a great addition to your betting portfolio.
Overall rating 4 out of 5
Thank you for your time and I hope you enjoyed the review. The final average score is 4.17/5 stars.
[Click here to see Football Bankbuilder] 
Regards,
Sgt Jack Reviews Football Bankbuilder